Roads under construction south of the Park (March & April) and detour from highway A1
Friday 22 February 2019
Starting from Monday 11 March 2019, road work will be carried out at Koningsweg (N311) and Apeldoornseweg (N784) in Arnhem. This also affects the accessibility of the Park and, in particular, the Schaarsbergen entrance.
From Monday April 1 to Friday April 19 there is also a detour for traffic from highway A1. From the A1, use exit Hoenderloo to go to the Park (avoid using exit Stroe).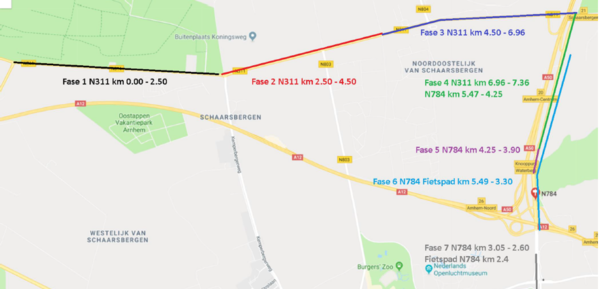 Dostal Wegenbouw is commissioned by the Province of Gelderland to carry out work on the Koningsweg (N311) and the Apeldoornseweg (N784) in Arnhem. Road safety is improved and the pavement is maintained.
The work is divided into different phases in which the work is carried out. Look at the map above and in the diagram below to see when and where the road is under construction

The Park has three entrances: Hoenderloo, Otterlo and Schaarsbergen. To avoid the road works, it will in many cases be faster for visitors from the south and east to use the entrance in Hoenderloo.